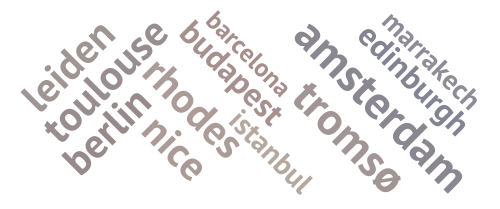 OCP13
Budapest, 13–16 January 2016
We are pleased to announce the Thirteenth Old World Conference in Phonology, and invite you to Budapest from 13 to 16 January 2016.
A workshop on variation in phonology will be held on 13 January, Wednesday. The con­fer­ence itself will be held from 14 to 16 January, Thursday to Saturday, featuring Outi Bat-El, Eugeniusz Cyran, and Bruce Hayes as keynote speakers. Both events are hosted by the Variation in Phonology joint research group of Eötvös Loránd University and the Research Institute of Linguistics, Hungarian Academy of Sciences.
The Old World Conference in Phonology is an international phonology conference. It was founded in 2003 by a group of linguists from the Leiden University Center for Linguistics and the Meertens Institute. Previous episodes have been hosted by the following cities: Amsterdam (2004), Tromsø (2005), Budapest (2006), Rhodes (2007), Toulouse (2008), Edinburgh (2009), Nice (2010, podcasts!), Marrakech (2011), Berlin (2012), Istanbul (2013), Leiden (2014), and Barcelona (2015). The next conferences are planned to be in Düsseldorf (2017) and in London (2018).